Download Game Android Honkai Impact MMORPG Anime Game
Download Game Android Honkai Impact -- Kali ini Droid X Game kasih info tentang game keren dan recom banget buat pecinta game mmorpg yang bernuansa anime yang grafisnya juga luar biasa, bahkan game ini menawarkan fitur khusus yaitu pemain dapat menyentuh karakternya didalam lobby sehingga membuat mereka malu-malu atau malah marah dengan gaya mereka masing-masing, yep mari langsung saja kita simak reviewnya.
Setelah sukses dengan Gun Girls School DayZ, kini Mihoyo membuat game 3D dari Kiana, Mei, dan Bronya. Dalam game ini, kita dapat menggunakan ketiga Valkyrie (karakter) tersebut dan digunakan bergantian. Namun pada dungeon tertentu, Valkyrie yang kita miliki akan bertarung bersama dengan karakter yang bergerak otomatis.
Kemampuan tiap-tiap Valkyrie dapat berbeda walaupun karakternya sama. Dalam game ini, terdapat sistem Gacha yang menjanjikan kekuatan untuk mendapatkan Valkyrie, senjata, dan material lainnya. Game ini sebenarnya masih dalam tahap pengembangan. Berharap saja semoga akan ada versi internasional/english dan seiyuu populer ikut berpartisipasi mengisi suara di game ini seperti GGZ.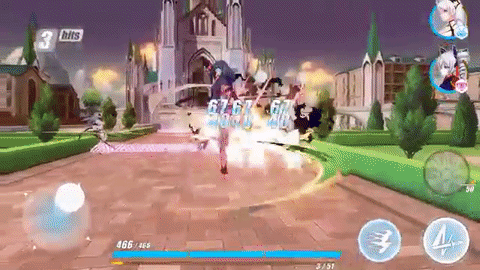 1. Go to the Official Site
http://www.bh3.com/
2. Click on the Bottom Download for Android
3. Install the Game
4. Run the game. Click on the MIDDLE Bottom Button.
5. Click on the TOP Button for E-mail Registration.
6. Email, Random Password, Password Confirm, Captcha
7. Leave other spots blank and continue. Enter and Play
8. Once you're in the lobby.
9. Click on top left to visit profile & change your character name.
10. You can also do e-mail confirmation on your profile page.
Switch to JP Voices
1. Go to the Settings/Options Menu.
2. Top Menu > CV Check Box located on the top move it Right to Left.
3. Tap your character in the lobby to test.
4. You can also set the game graphics slider to the far right for HD.
5. Make sure to set the game from 30FPS to 60FPS!
Recommended specification:

RAM: 2 GB

Memory: 1,5 GB

CPU: 1,8 GHz
Silahkan Baca :
>
Kumpulan Game Visual Novel Android dan PC Terbaru
>
Kumpulan Game MMORPG Android dan PC Terbaru
>
Kumpulan Game PPSSPP Untuk Android dan PC
>
Kumpulan Game Tips dan Tutorial Menarik
Jangan Lupa Berikan Support untuk Blog ini,
Semoga Kedepannya blog ini semakin sukses dan ramai pengunjung,
Sekian terimakasih atas partisipasinya :D
Salam Admin, Arby HD
[New]

Silahkan juga baca postingan : Cara membuat akun Honkai Impact 3 + cara mengganti Voice Chara menjadi bahasa Jepang